Nurses are no strangers to pressure injuries (PIs) as they are, unfortunately, a frequent occurrence in patient care. The therapeutic practices used to treat and prevent these conditions, often hospital-acquired, are sometimes not as effective as clinicians expect them to be. Extended exposure to moisture and pressure are two key contributing factors to skin degradation in the areas that eventually become pressure injuries. When skin, the body's largest organ, becomes compromised, it can fail to respond to the additional overload of these factors. In addition, a patient's other medical problems, such as diabetes, poor nutrition, or incontinence, can further hinder the body's ability to contend with the extra demands on the skin and increase the potential for skin breakdown.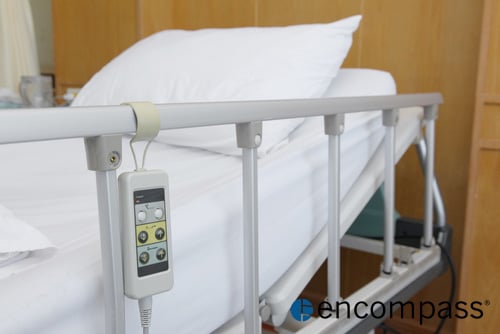 Currently available therapeutic surfaces for preventing pressure injuries include low-tech continuous low-pressure surfaces (CLP) such as foam mattresses, gel or air-filled pads and overlays, as well as more sophisticated high-tech solutions such as air-activated mattresses. The surfaces which are most efficient at redistributing pressure on the skin are those that provide the highest total skin contact coupled with the lowest possible pressure on the most vulnerable points. The simplest and least expensive of these solutions is the standard high-density foam. While this surface is superior to a regular hospital mattress for preventing pressure injuries, it still leaves much to be desired.
Related: Pressure injury prevention & treatment strategies in healthcare facilities.
A 2015 systematic review of support surfaces concluded that power-active air mattresses are a more effective method of reducing pressure injuries in high-risk patients than CLP devices. One high-quality trial showed that alternating pressure mattresses could potentially reduce hospital costs by preventing the formation of pressure injuries, which resulted in shorter hospital stays.
However, even mattresses that employ an alternating pressure can have drawbacks. Here are three such drawbacks:
ALLOSTASIS
Over time, the body can adapt by anticipating the repeating pressure patterns, a process known as allostasis. The result of this adaptation is that the therapy eventually loses its effectiveness and healing slows down.
CONSISTENT AIRFLOW
Also, many air-powered mattresses manage the skin microclimate with a consistent airflow across all surfaces. While this helps prevent skin break down in the affected areas, it can be overly drying on healthy skin where continuous airflow is not needed. This can be uncomfortable for the patient and create extra work for caregivers in treating dry or cracked skin.
CARE IMPEDIMENT
Traditional therapeutic support surfaces and pressure injury treatments are often not well suited to the needs of other members of the patient care team, such as respiratory care and physical therapy. More than 90 percent of people being treated for pressure injuries are originally admitted to the hospital for other conditions (such as pneumonia, nutritional disorders, diabetes, septicemia, UTIs, and musculoskeletal injuries), and therefore receive a combination of treatments. It's important that pressure injury prevention and treatment doesn't benefit one care discipline while presenting challenges for others, or that treatment for other conditions doesn't interfere with the treatment for pressure injuries.

DRAWBACK SOLUTION
To address these and other challenges, the Airisana™ Therapeutic Support Surface mattresses have incorporated innovations in patient care such as randomized pressure therapy algorithms to prevent allostasis. They also utilize unique valve technology to target airflow delivery to where the highest pressure is indicated. In addition, Airisana mattresses are designed to safely facilitate bedside therapy without hindering the multiple disciplinary care a patient often needs. To learn more about the Airisana™ Therapeutic Support Surface, click here.