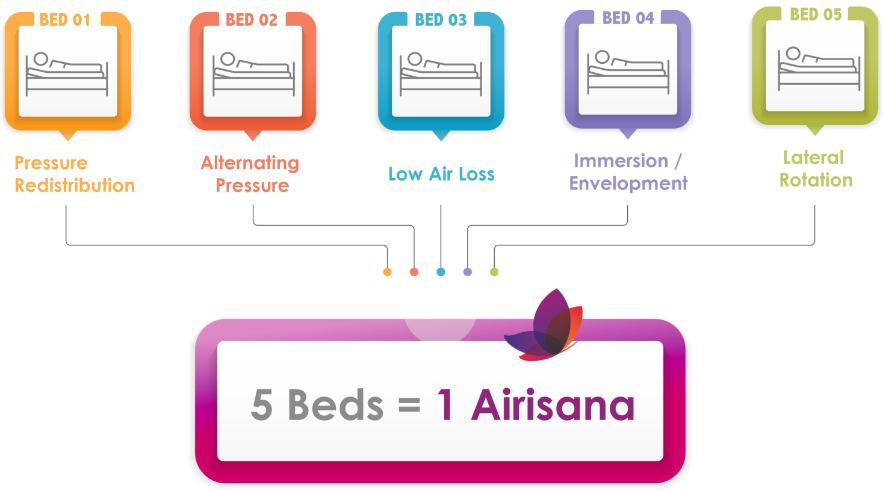 Where There's Pressure Relief, You'll Find Airisana®
The new Airisana® alternating pressure mattress brings an advanced design & unique approach to pressure reduction and microclimate management to address the root cause of pressure injuries (formerly known as "pressure ulcers" or "bedsores"). Informed by the experience with therapeutic support surfaces and insight of healthcare specialists, Airisana was designed with the transformative power of 5 therapeutic mattresses in 1 device.
An alternating pressure mattress
A lateral rotation mattress
An Immersion/envelopment mattress
A pressure redistribution mattress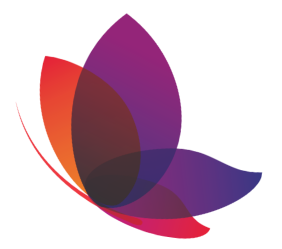 Key Information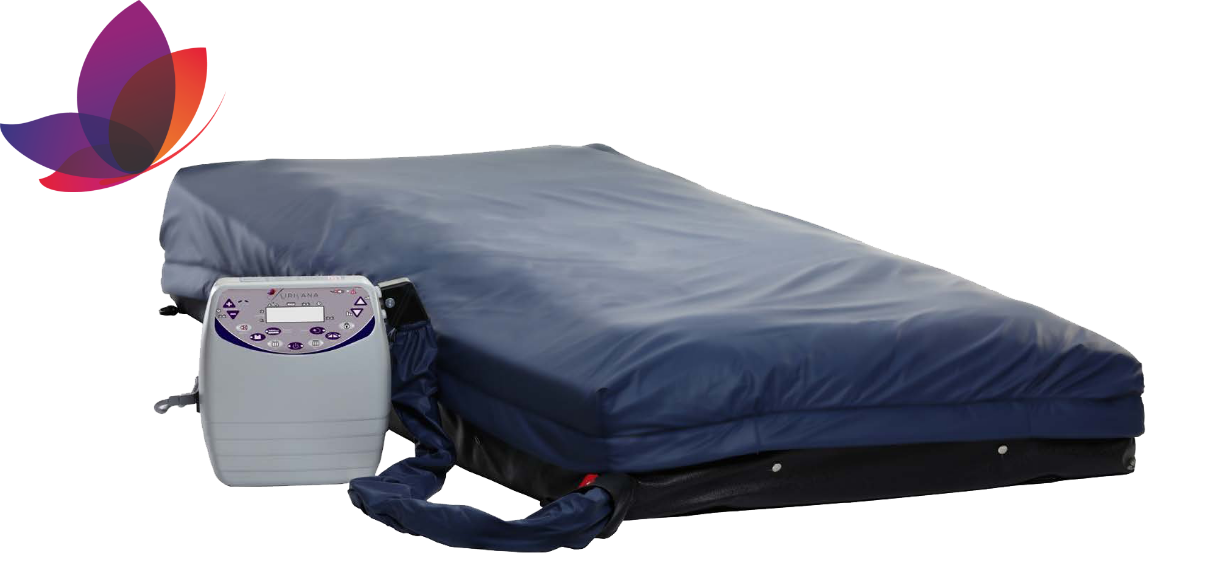 Key Features
We collaborated closely with caregivers to give Airisana® the features required to empower patient care.

Revolutionary pressure therapy to reduce acclimatization

Focused airflow to match the patient's mass distribution

Turn-assist & repositioning reduces friction, shear risk, and staff injury

Early mobility support to encourage movement & bedside stabilization

Extended Life Battery Backup and an intuitive TouchPad User Control Unit

Dartex micro-management cover that's easy to clean and promotes infection prevention
What Our Customers Are Saying
These happy customers gave Airisana® 5 stars. They shared their experiences with us:
Since we've received the mattresses, our rental costs have dropped off dramatically - more than 40% in 90 days. During this last Covid surge with many patients needing specialty beds, we were able to meet the demand in minutes rather than hours waiting on the rental. As advertised, your mattress really replaces several beds in one unit.
– Hospital Director
Airisana has done what we wanted, and more. The WOC nurse clinicians love the surface, and the only reason we rent surfaces at all now is when all Airisana surfaces are in use.
– BioMed Director, Piedmont Healthcare
The Airisana therapeutic support surface is an amazing device. I give it full marks for an exceptional patient experience — it's low on noise, ingress & egress is easy, and it's comfortable. It functions very well during clinical application and is easy to use.
– Brian Murphy, CEO of MedOne
We really enjoyed using this product. The ease of use, as well as functionality of this product, was outstanding.
– Victor Lange, Director of Greater El Monte Community Hospital
We really enjoy using this product. Airisana is easy to use, and the functionality is outstanding. It's very quiet. Ingress & egress are effortless. Plus, it's very comfortable for our patients. We give it 5 stars across the board!
– Epidemiologist, AHNC Network Hospitals