At Encompass, we believe that everyone should feel safe and comfortable in today's healthcare environments. This is no different if you're an outpatient popping in for a quick check-up, or a clinician and longer-stay patient working to prevent or treat pressure injuries.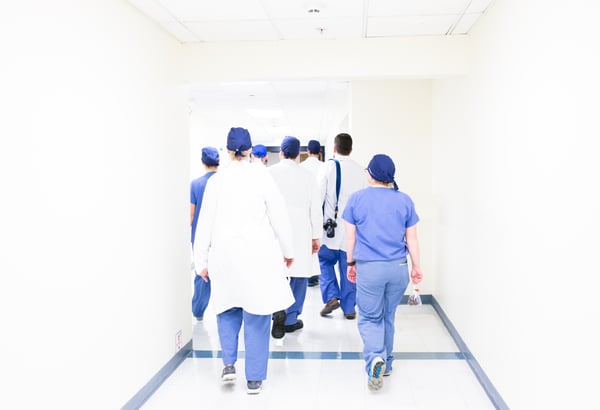 Pressure injuries are generally not the primary reason a patient is admitted to a hospital, but they place a burden on patients and caregivers alike and can increase operational costs.
Few understand the challenges of preventing and treating pressure injuries as well as the nurses and clinicians on the ground. So we drew from their valuable insights to develop Airisana™ and add one more tool to their caregiving arsenal.
Here are 5 key ways this therapeutic support surface helps nurses and clinicians turn the tide against pressure injuries:
Putting control back into the hands of nurses
A piece of equipment isn't helpful if it gets in the way of treatment. We designed Airisana™ to ensure nurses and clinicians' could work with it as efficiently as possible.
It's easy to clean, and simple to transport and store. It's also lightweight, easy to fold when not in use, and simple to set up. Each unit comes with an intuitive soft touch user control panel that's quiet enough to keep the healing environment comfortable.
We believe in supporting nurses and clinicians at the forefront of healthcare, as they're our champion innovators. Find out how they've contributed to key innovations over the course of history in our resource page, How Nurses Lead the Way in Reducing Pressure Injuries.
The efficiency of five treatments, in one mattress
Repeating pressure therapy patterns in traditional therapeutic support surfaces means a patient's body can adjust to the surface, negatively impacting healing.
Airisana™ reduces this risk with randomized pressure therapy modes that promote sustained pressure reduction and combine the benefits of multiple pressure therapies into one surface the body doesn't get used to. These include:
Alternating pressure. Randomized patterns prevent adaptation and allostasis, as a patient's body cannot anticipate the varied pressure pattern.
Pressure redistribution. This reduces peak pressure points across the body, and redistributes the pressure on hotspots, even when a patient lies in one position for an extended period of time.
Low air loss. Continuous low pressure reduces the contact pressure where the skin meets the mattress, and targeted airflow for microclimate management ensures only at-risk or ulcerated areas are cooled and dried.
Lateral rotation. This helps turn the patient at designated intervals. This alleviates pressure, reduces friction and shear and helps manage the skin's microclimate.
Immersion/envelopment. Airisana™ conforms evenly to irregularities such as a patient's body contours. This puts the greatest amount of contact between skin and surface, and ensures decreased pressure without interfering with patient mobility.
Explore these therapies in more detail on our product page, Introducing the Transformative Airisana™ Therapeutic Support Surface.
Targeted microclimates mean targeted treatment
A common drawback of traditional therapeutic support surfaces is the excessive drying or overcooling of a patient's skin with consistent airflow. Airisana™ uses unique valve technology to target airflow delivery where the highest pressure is indicated — giving therapy only where it's needed most.
Supporting multiple forms of care
An alternating air mattress that supports interdisciplinary care means that treating and preventing pressure injuries won't get in the way of a patient's overall healing.
Airisana™ was designed to facilitate bedside therapy. It's even emergency-ready — with a CPR deflate function and a quick access hose connection that ensures intervention in moments. With turn assist reducing friction and shear risk, and preventing caregiver injury, nurses and clinicians can now easily reposition patients as needed.
Related: Pressure injury prevention & treatment strategies in healthcare facilities.
Reducing the cost of care, without compromising on quality
Pressure injuries cost healthcare institutions and caregivers more than you may expect. Between the extended hospital stays, litigation threats and caregiver injuries that can accompany traditional pressure injury treatments, hospitals can quickly find themselves footing a larger cost than necessary.
Airisana™ was designed to change that. It returns savings of more than 120% when purchased, compared to the cost of traditional, rented therapeutic support surfaces. This translates to a return on investment within 2–3 months. Combined with the benefits of it's revolutionary design, and easy implementation, it ensures nurses, clinicians and their institutions come out winning against pressure injuries.
Got questions?
Reach out and contact us! We'll answer your burning questions, and even set up a virtual product evaluation so that you can experience Airisana firsthand, in the comfort of your own institution.