Once the medical community established how the novel coronavirus spreads, "personal protective equipment," or PPE, became essential in slowing the infection of healthcare professionals. Hospitals, long-term care facilities, and EMTs scrambled and begged for adequate numbers of medical-grade face masks, gowns and gloves. Without comprehensive federal guidance, states, healthcare companies and individuals often took matters into their own hands. PPE-related headlines have been difficult to read:
"U.S. exported millions in masks and ventilators ahead of the coronavirus crisis,"1 USA Today, April 3, 2020
"America is running short on masks, gowns and gloves. Again."2 – The Washington Post, July 8, 2020
"More than 80 percent of nurses report they are reusing at least one type of single-use PPE."3 – National Nurses United, November 12, 2020
"States spent over $7B competing for early virus supplies"4 – Associated Press, December 21, 2020
While the new vaccines offer more safety, they don't provide a 100 percent guarantee that front-line healthcare providers will avoid contracting COVID. Many of the same workers who've treated COVID-19 patients since last March are still lacking vital protection from the virus. Some hospitals, clinics, nursing homes and private practices have stepped up their acquisition of PPEs, but others remain woefully unprepared for the current surge in cases, hospitalizations and deaths.
What's Behind the Continued Shortages?
There's little argument that the U.S., along with most of the world, was unprepared for how much PPE would be needed and how quickly. Unfortunately, we've never remedied what the Harvard Business Review calls, "glaring supply-chain deficiencies." It points to the ongoing inadequacies of the Strategic National Stockpile and how its systems remain broken a year into the pandemic.5
According to a Healthline article in December, "The sale and purchase of masks, gloves, and gowns for healthcare workers, teachers, and other essential workers worldwide has become entangled in complexity, red tape, and at times greed." The story references logistical constraints, scams and poor quality as additional factors contributing to the ongoing PPE dilemma.6 This is the last thing that exhausted and demoralized healthcare workers need to hear.
Hope in the Form of Advocacy, New Solutions
Heading into the second year of the pandemic, those on the COVID-19 front lines have a much better idea of what's needed to protect themselves from the virus. Professional and private organizations are pitching in to push for adequate PPE. For example, the Texas Division of Emergency Management and the Governor's Supply Chain Strike Force bought more than 23 million masks, which are being distributed by the Texas Medical Association (TMA) and medical societies from the state's 254 counties. The TMA has created a PPE Portal to expedite the distribution of free equipment.7 Similarly, the American Medical Association (AMA) and non-profit Project N95 collaborated to reserve PPE for AMA members with no minimum purchase. The AMA has already urged the new administration to develop a nationwide coordinated strategy for PPE manufacturing, acquisition, and distribution.8
In the meantime, the need for greater comfort, convenience and risk reduction are driving PPE innovation. Healthcare providers also are looking to augment masks, respirators, gowns and gloves to further lessen their exposure to COVID-19. Our COVAIRE single-use clear barrier drape enables healthcare personnel to safely conduct aerosol-generating procedures, such as intubations and extubations. The light-weight COVAIRE™ sheet tucks under the patient's head, tents over the body, and allows the care provider access to complete the procedure via arm openings. Being easy to store, usable right out of the package, and disposable, it's one less item for medical teams to disinfect in the hectic environment of COVID treatment.
Encompass Group is optimistic that creativity, collaboration and organization will ease the PPE crisis in 2021. Reducing a very significant source of stress for those treating the novel coronavirus is the least we can do for our healthcare heroes.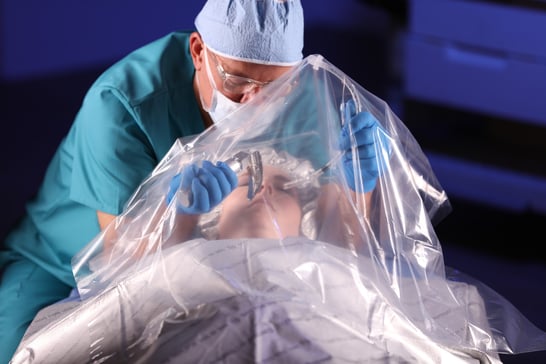 ---
References:
1 https://www.usatoday.com/story/news/investigations/2020/04/02/us-exports-masks-ppe-china-surged-early-phase-coronavirus/5109747002/
2 https://www.washingtonpost.com/health/2020/07/08/ppe-shortage-masks-gloves-gowns/
3 https://www.nationalnursesunited.org/press/national-nurse-survey-4-exposes-hospitals-knowing-failure-prepare-covid-19-surge
4 https://apnews.com/article/coronavirus-pandemic-cf178f705ce33a1f052fc46757481eb2
5 https://hbr.org/2020/09/why-the-u-s-still-has-a-severe-shortage-of-medical-supplies
6 https://www.healthline.com/health-news/why-ppe-is-still-in-short-supply-for-healthcare-workers#Shortages-put-workers-at-risk
7 https://www.texmed.org/TexasMedicineDetail.aspx?id=53456
8 https://www.ama-assn.org/delivering-care/public-health/how-texas-medical-association-got-millions-masks-doctors