The World Health Organization (WHO) defines healthcare-associated infections (HAIs) as those acquired by patients in hospitals or other healthcare facilities, which were not present or incubating when the patients were admitted. Additionally, HAIs include infections that patients pick up in the hospital but appear after they're discharged, as well as occupational infections among staff members1.
The prevention and reduction of HAIs is a primary goal of the U.S. Department of Health and Human Services (HHS). It established the HHS Steering Committee for the Prevention of Healthcare-Associated Infections in 2008, which developed a roadmap for HAI prevention in acute care hospitals2. Hospitals work tirelessly to mitigate the risks that lead to infection, especially since they are penalized for certain HAIs. Yet despite all the preventative initiatives, the problem still exists. As Encompass Group's Clinical Resource Director Kristy Warren, MSN-ED, RN, notes, "One healthcare-associated infection is too many as far as patient outcomes are concerned."
Let's take a closer look at the causes, risk factors and preemptive measures being used to combat HAIs, as well as an innovative method now available to help increase the odds against these infections.
Getting to the Source and Impact of HAIs
The most common type of HAI is the surgical site infection (SSI). These typically occur within 30 days of surgery, usually due to bacteria infecting the surgical wound. Infections can come from numerous sources: through airborne germs, from germs already on or in the patient's body that spread to the wound, or from a contaminated surgical instrument or caregiver3.
The CDC points to the ongoing burden of SSIs, as they continue to be a major cause of morbidity, prolonged hospitalizations, unintended readmissions after surgery, and death. In 2018, there were 157,500 SSIs in our country – and 8,205 resulting deaths. These post-surgical infections are also the most costly type of HAI, at $3.3 billion annually. Sadly, half of SSIs are considered preventable4.
Certain Patients and Procedures Face Higher SSI Risk
There is no "one size fits all" when it comes to post-operative infections. Geographic regions, surgical subspecialties and the vast number of procedures all complicate efforts to calculate risk. However, some consistent risk factors have been identified for patients and procedures. Patients are more likely to acquire an SSI if they:
are advanced in age
suffer from malnutrition
are obese
use steroids
have diabetes
require immunosuppressive agents
smoke
have a coexisting infection somewhere other than the surgical site.
Research has also pinpointed SSI risk factors related to the procedures themselves including :
the use of foreign materials such as drains
prior infection
preoperative shaving
lengthy surgery (2+ hours)
hypothermia
contamination from the operating room
prolonged perioperative stay in the hospital5
Besides being a risk factor for SSIs, operative and post-operative hypothermia may also contribute to increased cardiovascular complications, blood loss and unplanned transfusions, and perioperative hemorrhage6.
Prevention Falls on Many Shoulders
Patients themselves can help avoid SSIs if surgery is planned. Before the operation or procedure, they can stop smoking, notify care providers of their complete medical history (especially chronic illnesses), and refrain from shaving the surgical site skin. Following surgery, patients should carefully follow all wound care instructions, and ask family members not to touch the surgical site. It's important to immediately advise doctors of any fever, pus, redness, heat, pain or tenderness near the wound7.
As far as hospitals and surgical centers are concerned, the Journal of Preventive Medicine and Hygiene points to the importance of a multidisciplinary approach in preventing surgical site infections and other HAIs. The design, layout and functioning of operating theaters, particularly focused on environmental factors, are key to mitigation8.

There have been many studies about the optimal airflow to reduce infection risk in operating theaters. The pros and cons of various ventilation systems have been widely debated. The objective is to keep infectious germs, in the form of droplets, from becoming airborne and reaching the surgical site9.
Air circulation is particularly concerning to orthopedic surgeons, since a single bacterium can generate a periprosthetic joint infection (PJI) following joint replacement surgery. Studies reported in 2017 showed a 78 percent decrease in post-joint replacement infections when forced air warming was replaced with air-free conductive fabric warming (CFW)10.
Focus on Patient Thermal Management – Before, During and After Surgery
Hospitals have long used preheated cotton blankets to warm patients. Based on her own clinical experience, Kristy Warren admits that practice is not ideal for either patient comfort or infection control. "The heat retention of cotton blankets lasts only four minutes. When the patient remains cold, another blanket is added – and the pile begins to grow. In addition, cotton fibers produce lint that can be blown around the OR or recovery room."
Kristy helped develop our new NOVA™ system, which offers both passive and active warming features to support normothermia. "The lightweight, multi-layer conductive blanket can be used to capture body heat prior to surgery, then activated during the procedure to maintain the patient's ideal temperature. Post-op, it can continue to work passively, or be reactivated to achieve the desired temperature level."

The NOVA system includes a small control unit, which connects to the blanket and can be mounted on an IV pole or sit on a bedside table. The blanket itself is used only for that individual patient and then discarded. No need for care staff to haul loads of heavy cotton blankets to be washed, or the facility to find room to safely store them.
By warming only the patient, NOVA enables the surgical team to keep the operating room cool enough for their own comfort. It's a great alternative to blowing hot forced air around the room, heating the patient, overheating the care providers – and creating unwanted airborne highways for germs.
So when it comes to reducing healthcare-related infection, consider the importance of enabling every patient to start warm and stay warm. In addition to better care outcomes, you'll save time, money and effort for your staff.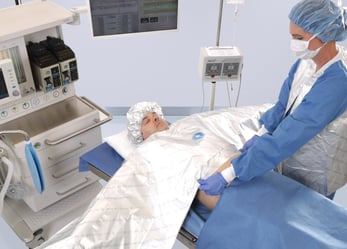 ---
References: