Not knowing who is walking through the halls of your hospital may be unnerving for patients who already feel vulnerable about their health and well being. It's common to see a variety of scrubs within an acute care environment, which can make it difficult for patients to differentiate between nurses and doctors and other hospital staff or even guests wearing scrubs. So how do you help patients better identify staff members?
One way hospitals are helping improve patients' comfort level and confidence in communicating their health needs is by implementing a staff identification uniform program.
Here are three ways staff identification uniform programs help patients feel safe and comfortable while being cared for at your hospital: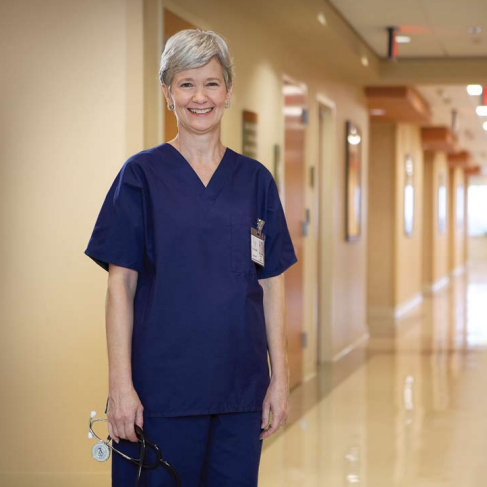 Staff identification programs help patients know who to reach out to for help

The goal of a staff identification uniform program is to aid patients in caregiver identification quickly and efficiently while creating a cohesive, professional look for all hospital staff members. A comprehensive staff identification uniform program considers the roles and uniform needs for each team of caregivers and assigns a color by discipline. For example, all physicians in your hospital might be dressed in light blue scrubs, while nurses wear navy. Patients and visitors are much more comfortable expressing their needs when they are easily able to confirm that they are asking the right staff member for the right care. A staff identification uniform program helps patients feel empowered in their care management.

Uniforms make it easier to differentiate staff from visitors

In addition to making it easier for patients to identify staff, a staff identification uniform program also allows patients to differentiate between staff and other guests, which enhances their comfort and safety. It can increase safety within your facility as well, as it can also help your staff quickly identify individuals who have entered staff-only areas of your facility.

A staff uniform program is also a branding opportunity


In addition to identifying which staff member is part of which provider role in the hospital such as Nurse or Doctor, a uniform program can go further to enhance your image and brand.


Scrubs, polos and lab coats can all be embroidered with the facility's or system's logo or name, and the employee's name and department can also be embroidered on the garment. The association of your facility's brand with a high-quality apparel program is a positive reinforcement of the positioning of your brand in your patients' and families' minds. A sharp-looking staff projects an image of a well-run organization in a great environment.

Designing a staff identification uniform program can be difficult and often time-consuming. Encompass Group offers a customizable staff identification uniform program designed by industry leaders specifically for acute care environments. With high-quality apparel and a variety of colors to choose from, Encompass Group can help you choose the right staff identification program for your hospital. Call 1-800-245-4636 or email me today to learn more about our staff identification program designed for health care facilities.