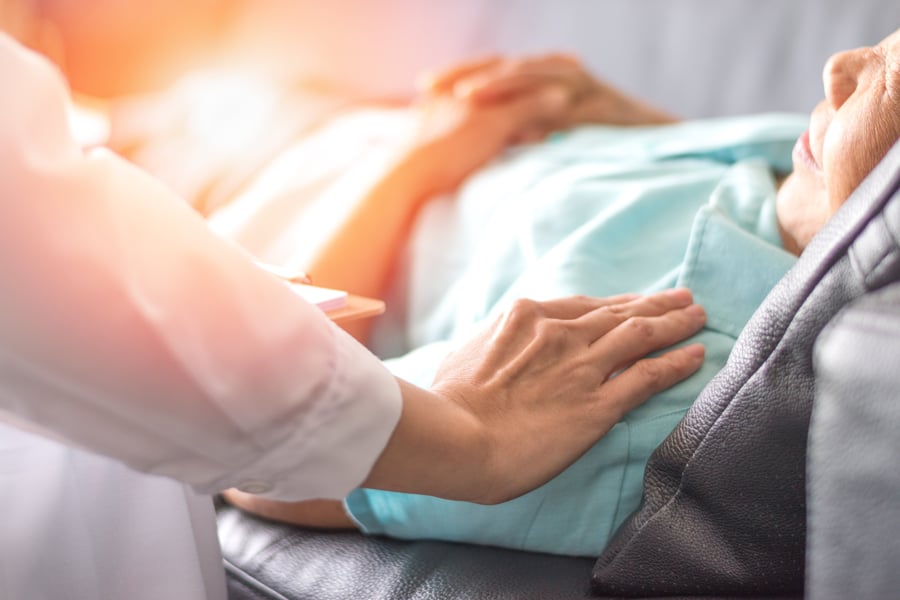 Medical mattresses have evolved greatly since the first hospital bed was invented by Dr. Willis Gatch in the early 20th Century. Today, healthcare facilities may choose from many options, and that can make it tricky to find the perfect medical support mattress for a patient's needs.
Here's a quick overview of the types of medical mattresses available to hospitals and long term care facilities, along with key differences and what to consider when choosing the right support for patients:
Innerspring: This is the most common hospital bed mattress. It's made of coils distributed throughout a solid base. They are ideal for patients who don't spend extended time in bed.
Foam: These mattresses are made of several layers of foam and are more supportive than innerspring mattresses. Foam mattresses may also use different types of foam across the surface of the mattress to address the more sensitive areas of the body that are most susceptible to breakdown.They're great for patients who need to spend extended periods in bed.
Alternating pressure: Air cells throughout this type of mattress inflate and deflate at regular intervals. This spreads the tissue load over a large surface area and stimulates circulation by constantly shifting pressure points. These mattresses are best for patients who already have ulcers or bed sores, are at increased risk of pressure injury development, or have limited mobility or sensation.

Low air loss: These treat the patient by forcing a flow of air through the cover material of the mattress, thereby creating a layer of air between the mattress and the sheet beneath the patient. This airflow removes heat buildup and wicks away moisture from the skin, which reduces the potential for skin breakdown. Low air loss therapy is most often ideal for patients where the concern around microclimate management and maceration reduction is imminent.

Lateral rotation mattress: These are air filled mattresses that inflate and deflate laterally and enable gentle rotation of bedridden patients who can't easily change their sleeping side.

What to consider when making a choice:
There are a number of vital factors you'll need to consider when choosing a medical support mattress. These include:
Envelopment and immersion: How does the mattress conform around the patient's body (envelopment)? What's the depth of penetration into the support surface in response to the weight of the patient (immersion)? Consideration of these two properties, envelopment and immersion, is essential when matching a surface to a patient's needs. For example, if the patient has some mobility, the surface shouldn't hamper the patient's independent movement.
Longevity and battery life: Will the mattress help you treat the patient efficiently, over time? If you may need to replace the unit frequently, or if it requires a lot of hands-on maintenance, then the particular medical support mattress you're considering might not be the most suitable option. Check for expected lifespan of the unit and for potential daily maintenance challenges, like average battery life.
Cost-effectiveness: The price tag isn't always an indication of the true cost of the purchase. The total cost of ownership is more on-target. Sometimes it's worth paying more for a better quality product that will save you time and money in the long-run. How cost-effective does your choice of medical mattress become once you've factored in considerations like a unit's expected lifespan, maintenance requirements, and ease of use?

Patient comfort: The right medical support mattress can go a long way to reduce unnecessary patient discomfort. Consider how any mattress you're considering contributes to patient comfort before making your choice. Is it designed for easy ingress and egress? Does it allow for quick emergency evacuation? Does it come with personalized patient care options and settings for comfortable, individualized support?

Incidents of Hospital Acquired Conditions (HACs): What are the rates of HACs associated with using this kind of mattress? Keep an eye on rates of pressure injuries, in particular.

Ease of use for hospital staff: Is the mattress designed to support multidisciplinary care, and how easy is it to operate, move or clean? This affects how quickly and efficiently you'll be able to provide care.

The Airisana™ therapeutic support surface

The right medical support mattress does more than just protect at-risk patients from the pain of pressure injuries. Each time the mattress prevents pressure injuries from forming in the first place or supports faster healing and efficient pressure wound care, it also reduces the cost of care overall and the length of time spent in the hospital.
The Airisana™ therapeutic support surface combines cutting-edge technology with insights gained from direct patient care nurses to help turn the tide against pressure injuries. Key benefits of this revolutionary therapeutic support service include:
Pressure Therapy: The Airisana™ team developed a new algorithm that combines random alternating pressure, immersion, envelopment, and pressure redistribution therapies.
Microclimate Management: Targeted airflow sends air to the highest patient pressure points on the surfaces, ensuring therapy in the areas it's most needed.

High praise from nurses: With easy-to-use controls and support for multidisciplinary care, Airisana™ is highly praised by nurses.
Airisana™ helps address a patient's pressure injury risk and care needs, at a manageable cost. Click here to see what pressure injuries may be costing your healthcare facility, or here to request an evaluation of the Airisana™ therapeutic support surface.