Keeping patients warm without power can be challenging, especially in cooler regions or areas affected by natural disasters. Ensure your hospital is prepared to keep patients warm while sheltering-in-place.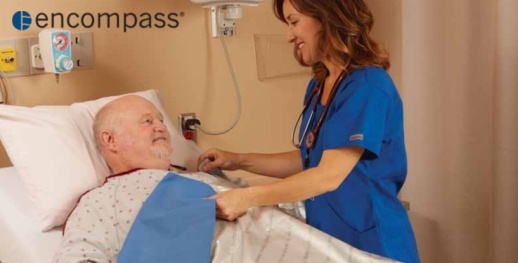 Emergency Preparedness - Keeping patients warm without power
In recent years, the United States has seen an increase in natural disasters and record-breaking winter storms. From extreme snow and negative wind chills, to wildfires and hurricanes, extreme winter weather can create disaster-like conditions.
Hospital and other healthcare facilities play a critical role in their communities when hazardous weather arrives. When extreme conditions surface, your role as an acute care facility doesn't change. Your patients will still continue to require treatment; some may even arrive to your facility with weather-related injuries such as falls and other common cold-weather illnesses and ailments. As conditions worsen, your staff, patients and visitors may be required to shelter-in-place, which would create some additional care needs.
Being prepared is key to a successfully sheltering-in-place.
Severe winter weather can create heavy snowfall, strong winds, massive icing and wind chills that dip down to temperatures well beyond freezing. Dry winter conditions in the west may create massive wildfires. These dangerous conditions may stress electrical lines, heating systems or generators.
Aside from regular maintenance to prevent equipment failures and, it's important to ensure your facility's emergency preparedness plan includes storing additional patient care supplies, including those that will help keep patients and other people in your facility warm, safe and comfortable as they wait out the conditions with you.
When the wind chill outside your doors dips below zero and heavy wind gusts are blowing on your windows, it may be difficult to keep all patient care areas in your facility warm, even if equipment is functioning as normal.
The threat of losing power creates a bigger challenge. Wildfires or extreme wind conditions can take out power lines and leave communities without power for days at a time. Makeshift portable heaters may be unsafe for indoor use and storing the amount of linen blankets essential to keeping even 50 people warm in freezing temperatures requires a rather large amount of storage space.
There is another option.
Fight the cold with Thermoflect®
Keep your patients and visitors warm with Thermoflect®, NASA pioneered technology that reflects a patient's own endogenous radiant heat, banking it in the body's core, while preventing convective heat loss (also known as wind chill). This heat reflective technology is a proactive protocol that has been trusted by clinicians worldwide for over 20 years to protect patients from unplanned hypothermia through the use of science - no electricity required.
Thermoflect is made of a lightweight, durable material and is lined with a soft, patient-friendly inner surface that maintains comfort standards while keeping patients safe from hypothermia. You can choose from various products including blankets, caps, foot warmers, adult-sized patient apparel, pediatric patient apparel and even staff apparel. Thermoflect® is also cost-effective and easy to store, making it a stress-free choice for leadership to approve in your facility's emergency preparedness kits.
The impact of winter weather conditions can be nearly impossible to predict. Ensure your facility is ready to face the storm.
Let Encompass Group LLC, help you prepare for the unexpected. Message me on LinkedIn or call 1-800-245-4636 to learn more about Thermoflect® products or to discuss other products you may need in your emergency preparedness kits.