McDonough, GA–(November 2017)–Encompass Group, LLC has added exceptional new linens
in keeping with their mission of safety and comfort in today's healthcare environment.
The new Performance RX® Sheeting line is designed to perform for healthcare laundries and patients alike. It is a 55/45-cotton/polyester blend that will offer the comfort of cotton with the durability of polyester.
The Performance RX Sheeting line features a comfort-designed weave of a fine denier filament yarn crossed with cotton yarns that is not only durable and easy to launder, but has a wonderful hand on the bed.
Performance RX Sheeting is available in 66x108 and 66x115 flat sheets, and a 42x36 pillowcase, in white.
"Our new Performance RX Sheeting perform beautifully in the laundry, and will please the most
discerning patients and residents," said Tom Langdon, Encompass General Manager, Bed and Bath.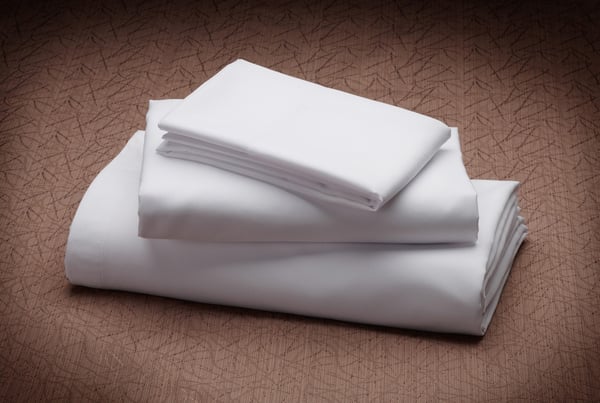 Photo caption: New Performance RX® Sheeting from Encompass Group features a fine denier filament warp with cotton filling yarns.
For more information, contact Encompass at info@encompassgroup.net, or call 800-245-4636.
About Encompass Group
Encompass is one of the world's leading manufacturers and marketers of reusable textiles, professional apparel, and disposable and single use medical products. Encompass believes that every patient, resident, caregiver, and family member should feel Safe and Comfortable in today's healthcare environments.
The way Encompass enhances the healthcare experience is by developing innovative products that are reliably delivered and cost effective for all providers.
The markets we serve include Acute Care, Long-Term Care/Senior Care, Retail Health Care Apparel, Hospitality, and Government Operations. . For more information, please visit www.encompassgroup.net, email info@encompassgroup.net, or call at (800) 284-4540.
For Immediate Release
Contact: Vicki Young
(214) 948-5940 phone, (214) 533-1584 cell
(214) 948-6940 fax
www.youngcompany.net