McDonough, GA–(March 2018)– Encompass Group, LLC introduces Synergy™ Professional Apparel long-sleeve scrub top for OR settings. Barrier sleeves aid in reducing the dispersion of dead skin scales or squames into the OR and hospital air. Less skin exposure aids in reducing the skin-to-skin contact between patient and caregivers.
The new long-sleeve scrub top fulfills the AORN guidelines for surgical attire recommending the covering of arms. The top also features a little extra 'modesty' coverage around the neck area.
Synergy™ Professional Apparel perfectly blends durability and value with a fashionable variety of styles and colors. All styles are made of Synergy fabric, a durable poly-rich blend that is comfortable, opaque, and quick drying.
"We're very pleased to offer this new scrub top for healthcare workers. The modesty neck is a great feature, and the long-sleeves are comfortable and provide increased safety for patients or residents and staff," said Bridget Miklausich, Encompass Group Managing Director, Product Management-Institutional Apparel.
These new tops come in fourteen popular colors, and a range of sizes from XS to 5XL. Coordinating pants are available. For more information, contact Encompass at info@encompassgroup.net, or call at 800-284-4540.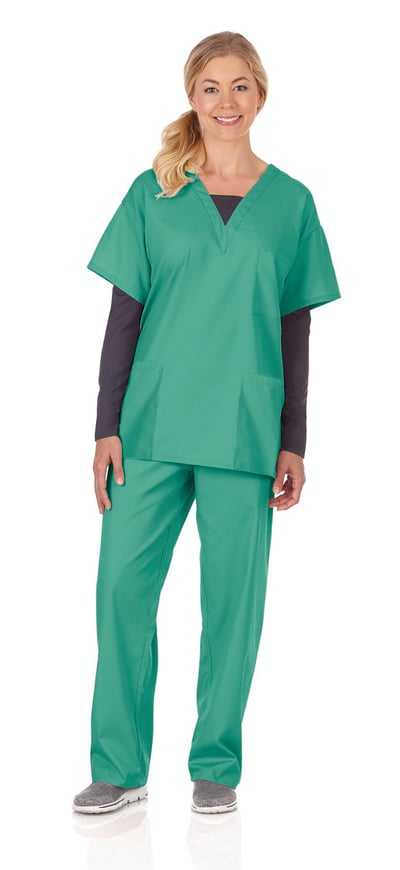 About Encompass Group

Encompass is one of the world's leading manufacturers and marketers of reusable textiles, professional apparel, and disposable and single use medical products. Encompass believes that every patient, resident, caregiver, and family member should feel Safe and Comfortable in today's healthcare environments.
The way Encompass enhances the healthcare experience is by developing innovative products that are reliably delivered and cost effective for all providers.
The markets we serve include Acute Care, Long-Term Care/Senior Care, Retail Health Care Apparel, Hospitality, and Government Operations. . For more information, please visit www.encompassgroup.net, email info@encompassgroup.net, or call at (800) 284-4540.
For Immediate Release
Contact: Vicki Young
(214) 948-5940 phone, (214) 533-1584 cell
(214) 948-6940 fax
www.youngcompany.net