McDonough, GA –(June 2020) –Encompass is featured in the June 2020 issue of American Laundry News – read it here: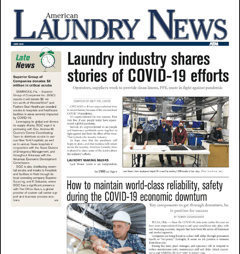 American Laundry News
Click on image or view HERE. We're proud to share our story working with our partners Jockey International, Inc. and Phoebe Putney Health Systems in the fight against the COVID-19 pandemic.
About Encompass Group

Encompass is one of the world's leading manufacturers and marketers of reusable textiles, professional apparel, and disposable and single use medical products. Encompass believes that every patient, resident, caregiver, and family member should feel Safe and Comfortable in today's healthcare environments.
The way Encompass enhances the healthcare experience is by developing innovative products that are reliably delivered and cost effective for all providers.
The markets we serve include Acute Care, Long-Term Care/Senior Care, Retail Health Care Apparel, Hospitality, and Government Operations. . For more information, please visit www.encompassgroup.com, email info@encompassgroup.net, or call at (800) 284-4540.