MCDONOUGH, GA, April 2020 – Encompass Group, LLC is working with partners to aid in the ongoing efforts to fight the coronavirus (COVID-19). "It is our company mission to help make patients, healthcare staff, and family members feel safe and comfortable in a healthcare environment. Now more than ever we are committed to that mission. We are proud to work alongside our customers to do our best to make a positive difference in these extremely challenging times facing our industry and our country," said John Wood, Encompass CEO.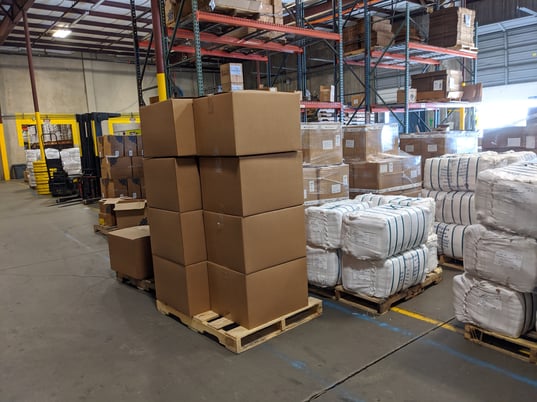 Recently, Encompass worked with partner Jockey International, Inc. to quickly process and ship 10,000 much-needed Jockey scrubs to the temporary hospital located in New York's Jacob Javits Convention Center. That effort was highlighted in a White House Rose Garden speech made by Jockey Chairman and CEO Debra S. Waller during one of President Trump's daily coronavirus updates.
Encompass also supplied OR sheeting material to Pheobe Putney Health Systems to be used in the production of surgical masks. "Right now, we're all being reminded of how important it is to come together and do what we can to help each other. In that spirit, we were delighted to partner with the fine folks at Pheobe Putney Health in their effort to make masks for their frontline workers," said Vice President, Healthcare Textiles, Jamie Orlando.
"I want to salute the team effort required to pull off such important tasks. This work engages the entire company and demonstrates just how committed we are to the customers we serve," John Wood said.
About Encompass Group
Encompass Group is one of the world's leading manufacturers and marketers of reusable textiles, professional apparel, and disposable and single-use medical products. Encompass believes that every patient, resident, caregiver, and family member should feel Safe and Comfortable in today's healthcare environments.
The way Encompass enhances the healthcare experience is by developing innovative products that are reliably delivered and cost effective for all providers.
The markets we serve include Acute Care, Long-Term Care/Senior Care, Retail Health Care Apparel, Hospitality, and Government Operations. For more information, please visit www.encompassgroup.com, email info@encompassgroup.net, or call at (800) 284-4540.