MCDONOUGH, GA, June 12, 2019 – Encompass Group, LLC, one of the world's leading manufacturers and marketers of reusable textiles, professional apparel, therapeutic support surfaces, and disposable and single-use medical products, today highlighted important scientific information presented at the 46th Annual Conference of the Association for Professionals in Infection Control and Epidemiology (APIC) at the Pennsylvania Convention Center in Philadelphia, PA. An expert identified a correlation between air-equipment pathogen-contamination levels from forced-air warming (FAW) devices, expanding concerns about growing infection risk and referring attention to useful mitigation strategies.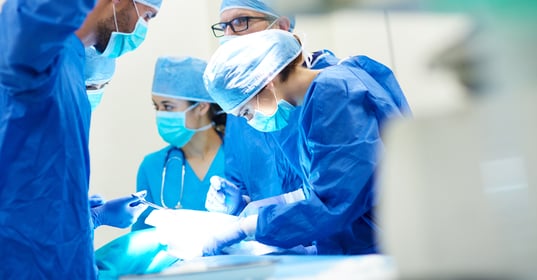 APIC is the primary association for professionals dedicated to preventing infections in healthcare environments. More than 15,000 APIC members strive to improve patient care and staff safety at a lower cost by isolating and intervening in infection opportunities. APIC aims to eliminate healthcare-associated infections (HAIs) in acute-care, ambulatory, outpatient, long-term, home-health, and other settings. Annually, more than 5,000 APIC attendees—including 2,500 clinical professionals—gather to share evidence-based learning and best practices via exhibits, plenary sessions, workshops, and presentations. A gallery of posters by infection-prevention experts communicates new scientific data.
One such presentation, "Forced Air Contamination Risk in the OR," reviews the infection risk associated with FAW devices in operating environments. Victor R. Lange, PhD, JD, MSPH, ICP, CRC, CRA, is a Healthcare Epidemiologist and Clinical Research Expert and Director of Quality / Risk Management / Infection Prevention at AHMC – Greater El Monte. Mr. Lange's study acknowledged the benefits of perioperative patient warming could be contraindicated by the risks of FAW. While patient warming improves postoperative results and shorten hospital stays, FAW can introduce bacteria into operating theaters via surface-component contamination and tissue-air connection, thereby increasing surgical-site infection (SSI) and healthcare-associated infection (HAI) risks. Mr. Lange sought to collect new FAW-bacteria correlation data to better understand risks and inform infection-control protocols.
Based on his findings, Mr. Lange observed, "With significant levels of pathogens above minimum- and maximum-acceptable levels, OR theater air-quality monitoring and HEPA-filter and FAW-unit maintenance may not adequately prevent microorganism communication and transmission." He found, "Data identified a correlation of positive airborne samples for instances that had high-pathogen contamination in the warmer-temperature components, contributing to increased patient infection and SSI concerns." And, finally, Mr. Lange concluded, "FAW device-component contamination may be a heightened risk in the OR…Cross-contamination of the environment remains a risk…[and a] reduction in surface and airborne CFUs may positively reduce SSI and HAI risk."
For over a century, Encompass Group, LLC has been helping healthcare and hospitality organizations create safe and comfortable environments for patients, staff, residents, and guests. Thermoflect Heat Reflective Technology products from Encompass Group, LLC deliver improved patient-warming outcomes at reduced cost without increasing infection risk because they do not rely on FAW. Thermoflect technology prevents hypothermia by preserving—or banking—a patient's core-body temperature, capturing and reflecting heat back to the cutaneous layer (skin), and averting convective heat loss (windchill). Thermoflect products—lightweight, durable, versatile, cost-effective, and comfortable blankets, caps, gowns, and other apparel—can be combined with other warming methods to help achieve the goal of normothermia throughout the surgical process, from admission to recovery. Thermoflect products—on display at APIC 2019—are easily integrated into a facility's warming protocol, using no wires or external heat source.
Encompass Group Chief Marketing Officer Mark Beran stated, "Encompass Group continuously identifies enhanced approaches to patient care. Our innovative Thermoflect product line reduces hypothermia risk. Equally important, unlike forced-air warming, Heat Reflective Technology does not raise operating-theater contamination and cross-contamination risk. Thermoflect, therefore, can assist organizations in their efforts to decrease HAI and SSI incidence.
We invite APIC 2019 attendees to visit us at Exhibit Hall Booth 135 to learn more about how Thermoflect Heat Reflective Technology products can aid your patients, your staff, and your facility."
APIC 2019 continues through June 14, 2019. Mr. Lange's findings are available in detail in the Poster Hall of the PCC through 1pm Eastern on Friday, June 14, 2019. Thermoflect product information is available in Exhibit Hall Booth 135.
About Encompass Group
Encompass Group is one of the world's leading manufacturers and marketers of reusable textiles, professional apparel, and disposable and single-use medical products. Encompass believes that every patient, resident, caregiver, and family member should feel Safe and Comfortable in today's healthcare environments.
The way Encompass enhances the healthcare experience is by developing innovative products that are reliably delivered and cost effective for all providers.
The markets we serve include Acute Care, Long-Term Care/Senior Care, Retail Health Care Apparel, Hospitality, and Government Operations. For more information, please visit www.encompassgroup.com, email info@encompassgroup.net, or call at (800) 284-4540.