McDonough, GA–(February 2017)–Shower-Steps from the Albahealth division of Encompass Group are now available in a new small size. Shower-Steps provides added protection on wet surfaces to help prevent falls that could lead to injury. The slip-resistant flexible sole and mesh upper feature an open weave design, which allows water to flow through while bathing, and provides maximum traction. Designed for use on wet surfaces, air passes through to speed drying.
"Falls and injuries often occur on wet surfaces," said Jennifer Woody, Albahealth Senior Manager, Marketing and Products. "Shower-Steps add an extra measure of safety. Shower-Steps provides
slip-resistance on wet surfaces such as the shower, rehab pools, and in the healthcare environment
in general. Now with our new small size, we have all your patients covered."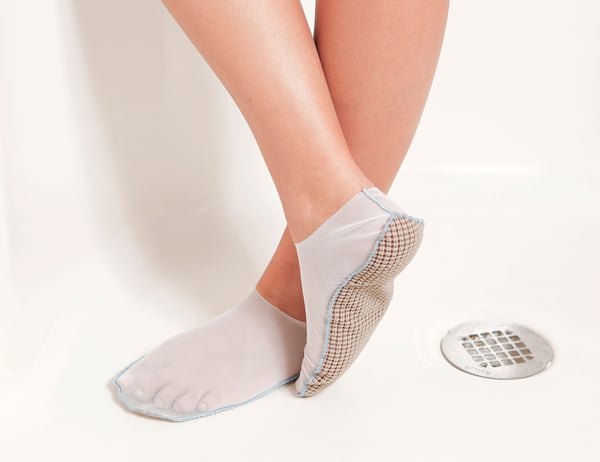 Patient falls are a serious patient safety issue, and an effective fall prevention program is a critical component of any patient safety strategy. Industry stakeholders such as National Quality Forum (NQF), Centers for Medicare and Medicaid (CMS) and The Joint Commission have addressed both the need for preventative measures as well as the potential impact to facility reimbursement for poor performance.
Encompass continues to add to their long list of fall prevention solutions. The company offers a full range of patient safety footwear, risk indicator patient gowns and throw blankets, protective garments, bedside fall mats and more. Contact Jennifer Woody, Jennifer.woody@encompassgroup.net,
865-717-9013.
About Encompass Group
Encompass is one of the world's leading manufacturers and marketers of reusable textiles, professional apparel, and disposable and single use medical products. Encompass believes that every patient, resident, caregiver, and family member should feel Safe and Comfortable in today's healthcare environments.
The way Encompass enhances the healthcare experience is by developing innovative products that are reliably delivered and cost effective for all providers.
The markets we serve include Acute Care, Long-Term Care/Senior Care, Retail Health Care Apparel, Hospitality, and Government Operations. . For more information, please visit www.encompassgroup.net, email info@encompassgroup.net, or call at (800) 284-4540.
For Immediate Release
Contact: Vicki Young
(214) 948-5940 phone, (214) 533-1584 cell
(214) 948-6940 fax
www.youngcompany.net