Pressure ulcers, commonly known as bedsores, are skin and underlying tissue injuries resulting from pressure on the skin over prolonged periods of time. Pressure ulcers tend to form on bony areas of the body, such as the tailbone, hips, ankles and heels that are frequently pressed against a hard surface such as a bed or chair. These painful sores are not only uncomfortable for your residents, they put your residents at risk for further infection.
Although bedsores can develop quickly, people most at risk of bedsores are those experiencing limited mobility or those who spend most of their time in a lying or sitting position. Residents managing pre-existing chronic conditions such as diabetes are at an even higher risk for developing pressure ulcers when they become immobile due to illness, even if only for a day as would be the case for a 24-hour virus.
How Pressure Ulcers Impact your Five-Star Rating
To determine a facility's Five-Star Rating, trained inspectors review medical records and interview residents during their assessments. Skin breakdown is a growing concern in care delivery and frequent reports of skin breakdown will reflect poorly on your facility's state health measure.
Reports of Stage 3 or Stage 4 pressure ulcers acquired after admission to a senior living facility is considered a "never event" and will reflect poorly on your quality measures. If one or even two of the three measures that make up your facility's rating are poor, your overall rating will be reduced significantly. Once your Five-Star Rating is below a three, it's far more difficult to get back to an acceptable rating.
The ProActiveAir™ System is Clinically Proven
Prevention is key to maintain care quality and avoid negative ratings. Pressure relieving and redistributing therapeutic support surfaces are widely accepted methods to relieve pressure on vulnerable parts of the body and prevent the development of pressure ulcers for people considered at risk. With options for non-powered and alternating pressure therapy, Encompass Group's ProActiveAir™ System is a proven solution in pressure ulcer prevention.
Here's how the alternating pressure mattress works: Interconnected air sections provide air support and exchange to meet the needs of patients of nearly any size, shape, or weight, giving your residents the pressure reduction they need and the comfort they want and deserve. The heel slope offers added protection that allows the calf to bear more of the leg's weight rather than the heel. For added protection, the antibacterial and antimicrobial-treated components also help prevent skin infections due to exposure.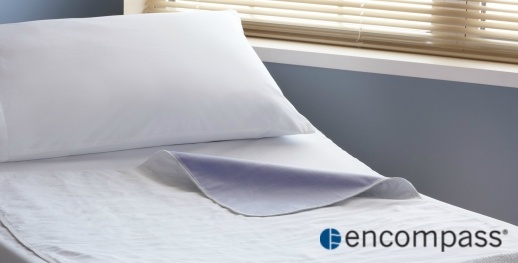 Senior living facilities with high Five-Star Ratings make resident care a top-priority. The ProActiveAir™ System makes it easier for you to keep your residents safe and comfortable.
Encompass Group LLC has been the leader in cost-effective, clinically-proven support surfaces for senior living facilities for the last 40 years. Call 1-800-245-4636 or email me today to learn more about how the ProActiveAir™ System can protect your residents and Five-Star Rating alike.