Is it time to update your senior living linen management system? Use our tips to select a linen system that will keep residents safe and comfortable while maximizing your ROI.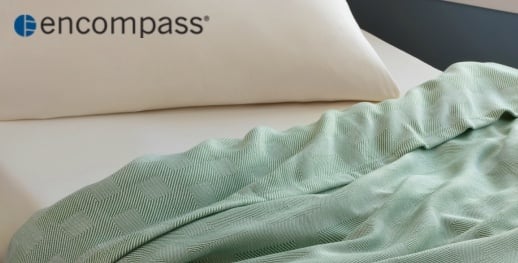 Updating your linen management system can improve your ROI
Is your traditional, same-as-we've-always-used linen system dragging your return on investment (ROI) down? Have your residents expressed that your linens are uncomfortable and rough on their skin? These are the types of complaints we've heard from caregiving and housekeeping staff who are seeking solutions for the laundry and linen systems at multiple long-term care facilities. Here are three tips we always provide to those looking to invest in a new linen system that addresses industry concerns.
Choose linens that reduce laundry labor costs and improve staff productivity.
No-fold linen systems reduce costs by saving time for caregivers and laundry services alike. Modern high-performance knit polyester fabric products dry in half the time of traditional cotton-blended healthcare linen products, resulting in substantial energy savings. In fact, a poly-knit no-fold system could reduce staff labor hours by 6 hours per day at a 100-bed facility when compared to using traditional cotton-blend linens. The time saved by eliminating sorting and folding bed linen pieces would significantly reduce labor expenses associated to laundry processing. Annually, this could mean a savings of over $20,000+ per facility
Seek out linens made with durable materials.
By providing clean linens, your staff helps create a healthier, more comfortable environment which is optimal for improving your residents' quality of life. Unfortunately, commercial laundering that properly follows the Centers for Disease Control and Prevention's (CDC) Guidelines for Environmental Infection Control in Healthcare Facilities is hard on linens. These guidelines are important to follow to prevent infections from cross-contamination but cotton-blended textiles that aren't designed to handle the stress will need more frequent replacement.
Synthetic knit linens tend to be more durable than traditional cotton-blend linens and making the switch can reduce replacement costs by up to 40% at your long-term care facility. Specially-designed, durable health care linens can last 18-24 months, a length that is over 6 times longer than many traditional products. There's no doubt that upgrading your linens in this way will offer a ROI well beyond that of other linen systems that require frequent replacement.
Select fabrics that will impress residents, visitors and staff.
Your linen system should be designed for resident comfort and range of motion. The technical design and fabric used should also address the more serious conditions and concerns that require prevention in senior living facilities such as skin breakdown due to pressure and shear, a dangerous "never event." Look for linens created to provide extra room in areas that are frequently susceptible to pressure points, such as near the toes, and that stretch with the movement of the resident. Not only will this ensure resident comfort, it will reduce the risk of painful pressure sore development for them.
Of course, safety is always first and the main goal of using softer, roomier linens is to protect residents from pressure sores and skin breakdown issues. However, an equally important goal is to ensure resident comfort: You want your residents to notice how soft their bedding is. Stay away from materials that possess an institutional feel. Residents will not be happy with linens that feel scratchy or over starched. Using soft, stain-resistant materials not only cuts linen rewash down to near "zero" in all facilities we work with , it also adds comfort through appeal.
The bottom line is that you should seek out a linen system that addresses key industry concerns throughout the entire linen handling process, including laundry, linen distribution, bed-making and soiled linen handling. Whether your ultimate goal is to enhance your resident environment or increase staff efficiency, a well-designed linen system will align your facility departments through ease of use, bringing peace of mind and accomplishment to each team member, and ultimately helping to improve the quality of resident care.
Healthcare facilities count on Encompass Group to deliver premier quality products that provide optimal resident safety and comfort and maximize operating efficiencies. We have the products you need to improve your caregiver and laundry worker workflow surrounding linen management. Call 1-800-245-4636 or message me on LinkedIn today!